17th Nov 2012 - Wildlife + Star Gazing, Kirthar National Park.
It was an excellent trip, did off-roading and Star gazing with some wonderful people. We camped at the top of Kirthar, about 2800ft above Sea level.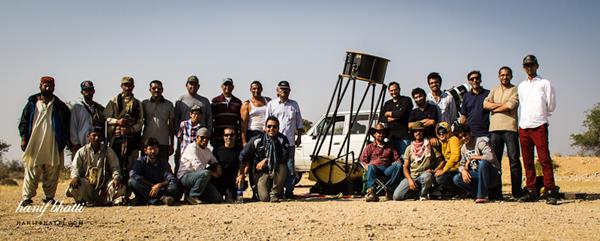 Standing:
Left to right - Guide, Guide, Guide, Aqeel, Aadil, Rayhan, Camran, Hanif, Mehdi, Abubaker, Hasan, Kamran, Sajjad, Sheryar.
Front row:
Left to right - Guide, Abbas, Kamil, Fahad, Asif, Jawad, Naveed, Nadir, Tabish, Usman.
Center- Webster C24, largest privately owned telescope in Sub continent owned by Naveed Merchant.
Passengers:
1. Aqeel Baig
2. Adil Jadoon
3. Naveed Merchant
4. Sajjad
5. Camran Mir
6. Rayhan
7. Mehdi Hussain
8. Fahad Ullah
9. Abubaker Siddiq
10. Nadir Siddiqui
11. Usman Iqbal
12. Hasan Ali
13. Tabish
14. Asif Ayub
15. Kamran Soomar
16. Kamil, Adil's son
17. Sheheryar Shah
18. Hanif Bhatti
Rides:
1. Naveed Merchant (TLC HJ-60)
2. Aadil Jadoon (Pajero)
3. Rayhan Ahmed (TLC Prado)
4. Aqeel Baig (Prado)
5. Hanif Bhatti (Becharo)
6. Camran Mir (MUTT)